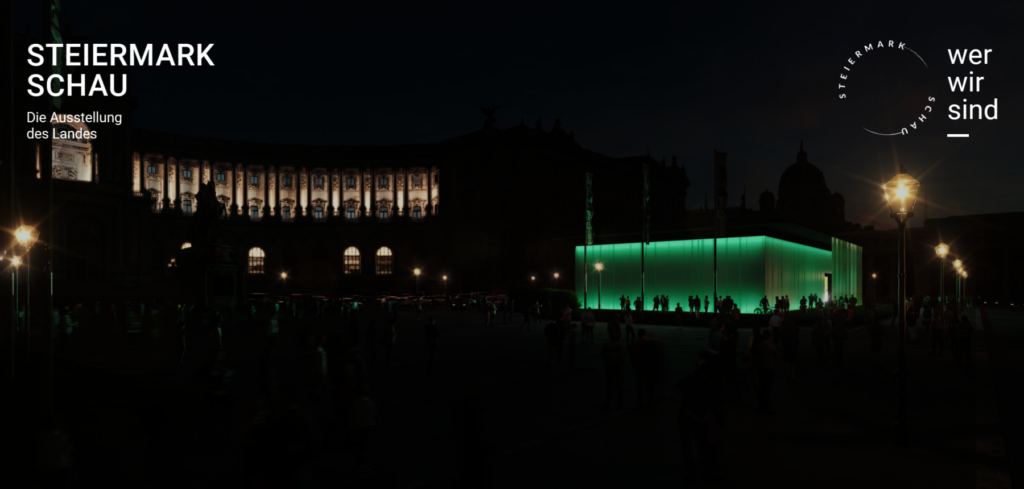 Since April 2021, the new exhibition format of the Universalmuseum Joanneum – SHOWING STYRIA – can be seen at three locations in Graz and in the mobile pavilion.
While the Museum of History, the Folklore Museum and the Kunsthaus in Graz deal with the complexes "what was", "how it is" and "how it will be", the mobile pavilion centers around the question "who we are". On large-format panorama screens, themes of art, diversity and landscape are addressed. Styrian artists are given space to show their work and, elsewhere, to describe their relationship to Styria. In the "Stimmen zur Steiermark – Zentrale Positionen aus Kunst und Kultur" (Voices on Styria – Central Positions in Art and Culture), Fiston Mwanza Mujila will also have his say.
The mobile pavilion will stop at four locations in Styria (Hartberg, Spielfeld, Schladming, Bad Radkersburg) until the end of October and can be visited there daily from 10:00-18:00 with free admission.
https://www.steiermarkschau.at/en/#off
https://www.steiermarkschau.at/en/exhibitions/mobile-pavilion